Careers: Interviews
A Chat with Lakmini Wijesundera: Technology Entrepreneur; Mentor; Co-Founder and Executive Director of IronOne Technologies and BoardPAC; past Board Director of ICTA Sri Lanka
This week, Stephen Ibaraki has an exclusive interview with Lakmini Wijesundera.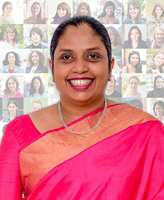 Lakmini Wijesundera is a Sri Lankan technology entrepreneur who focuses on making Sri Lankan technology products gain global brand recognition. Lakmini strives to bring the next wave of unicorns and Forbes-ranked companies from countries such as Sri Lanka which have natural technology innovation talent that is not tapped to its fullest.
Lakmini heads IronOne Technologies and BoardPAC, which were both recognized as award winners for comradeship, awarded Asia's best workplaces in 2021, and Top 25 great places to work in Sri Lanka in 2019 - 2021. Gartner's Capterra ranking has awarded BoardPAC as the 'Best Ease of Use' and 'Most Competitive' product in the Board Meeting Automation category, while the global G2 ranking has awarded many accolades to BoardPAC which is a named a Leader in Board Meeting Automation.
Lakmini has a wealth of experience in leading global competitive expansion in enterprise solutions. She has started out in the engineering discipline with her education in Imperial College London. She has many accolades behind her, some recent wins are: being selected as a prestigious Ernst & Young Winning Woman, the overall winner of the SAARC Woman Entrepreneur of the year 2019, at the Stevie Internatonal Business Awards she won four of the key awards in leadership and innovation, followed by Woman Leadership Award at Asia's IT Excellence Awards.
Her vision is to make BoardPAC the number one global brand for board meetings and believes that strong corporate culture is a key aspect to the successful journey towards this vision. At present, BoardPAC is ranked within the top 5 products based on global ranking.
Lakmini served as a Board Director of ICTA Sri Lanka, the key government ICT Association during 2019. She continues to be involved in several initiatives with Slasscom, CIMA Global, ICTA, British Computer Society (BCS) and others in advisory capacity as well as providing mentorship to startup founders in the ICT sector. She is also a judge of the Spiralation seed grant program for the past consecutive three years.
BoardPAC is proud of its strong growth year after year and its prestigious global portfolio which includes: Forbes Global 2000 companies, Petronas (the largest oil and gas company in Asia), Mercedes Daimler, Deloitte, OCBC Bank, Bank of Singapore, Reserve Bank of India (the Central Bank of India), Bank Negara Malaysia (the Central Bank of Malaysia), BSE (Bombay Stock exchange), Bursa Malaysia (Malaysian Stock Exchange), May Bank, Hong Leong, Yes Bank, Kotak Mahindra Bank and Group, HDFC Limited India, Axiata Group, Maxis and many more.
BoardPAC operates with over 10 overseas locations across the globe covering India � Delhi, Mumbai and Bangalore, South Africa, Malaysia, Singapore, Australia, USA for servicing BoardPAC business operations in those regions.
IronOne Technologies offers a diverse set of technology services which include AI technology services and ATrad solutions to multiple country stock exchanges, with 80% of market share in Sri Lanka's Colombo Stock Exchange broker firm usage and trades, which include Asia Capital, Capital Trust, Softlogic, CT Smith and more. IronOne provides solutions to the world's leading brands such as Victoria Secret, Ralph Lauren and Tory Burch with innovative mobile application services.
TO WATCH THE VIDEO INTERVIEW, CLICK ON THIS MP4 file link