Careers: Interviews
A Chat with Gil Perry: Thought leader; Pioneer in Generative AI; Expert in facial recognition; Co-Founder and CEO of D-ID
This week, Stephen Ibaraki has an exclusive interview with Gil Perry.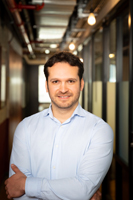 Gil Perry is Co-Founder and CEO of D-ID. A pioneer in Generative AI and an expert in facial recognition, Gil and his co-founders originally created the first facial image de-identification solution to protect images and videos from facial recognition.
Prior to founding D-ID, Gil served in technical and business roles in global technology companies, including Houseparty. An international speaker and thought leader, Gil has spoken at TechCrunch Disrupt, SXSW and other leading industry platforms.
Gil holds a B.Sc. degree in Computer Science from Tel Aviv University, with expertise in computer vision, image processing and machine learning.


TO WATCH THE VIDEO INTERVIEW, CLICK ON THIS MP4 file link