Careers: Interviews
A Chat with Lara Bezerra: Mentor; Board Member; Founder of Workcoherence; past Executive President of the Bayer group in Latin America (Venezuela), about fostering a world for coherent leadership and a purposeful life.
This week, Stephen Ibaraki has an exclusive interview with Lara Bezerra.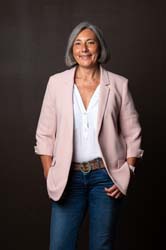 Lara Bezerra's international career in the pharmaceutical industry spans 27 years, three continents, seven countries, in several positions, being in senior leadership positions of multinationals (General Manager, Managing Director, and CEO) since 2003. She has succeeded as a female executive, having some pioneer positions as the 1st Female leader appointed Executive President of the Bayer group in Latin America (Venezuela), and the first woman elected as chairperson of Cavenal, the German chamber of commerce in Venezuela, among others. She is Brazilian and has worked in American, German, and Swiss multinational Pharmaceutical companies. But she is prouder about being the first CEO) to have the title of Chief Purpose Officer because, for her, bringing Purpose to people's life is her mission.
She has driven organizations and teams to succeed financially, professionally, and personally. Lara believes results come through people, and she has aimed to build leaders in each of her team members.
She has a very peculiar leadership style, bringing all organizations to the higher top ratings of engagement scores. Her leadership delivered more than simple financial results; she transformed organizations and people because she believed in each individual's potential she worked with.
She always believed that:
Trust in humans was more important than controlling them through numbers.
You do not need to motivate the co-workers by setting SMART objectives, but you must help them find meaning and Purpose in their work to be intrinsically motivated.
She should get her team's respect because they knew she believed in their exponential potential to grow and make a difference. She knew how much difference an organization with Purpose could make in society, and she could never achieve anything alone.
As a result of her transformational work based on Purpose and conscious leadership in India, her last assignment, Lara was featured in different media. Among them is an article in Forbes by Michael Chavez, the CEO of Duke Corporate Education, in his monthly column about Purpose in organizations, where he mentions her as the 1st Chief Purpose Officer in a CEO position (read the article here). Lara's work in India was used as a business case in 2 books; "Rehumanizing Leadership, putting Purpose back into Business" on introducing Purpose to corporations and Prof Danah Zohar's book "Zero Distance," on how to implement Quantum Leadership.
After leaving the corporate world in December 2019, Lara started a new journey to consult, coach, and mentor organizations to elevate the consciousness of leaders and organizations changing their mindsets to work consciously, impacting society positively, and building more leaders in their organization who want to lead consciously, bringing Purpose to their companies and their people. Her new mission is to use her experience to elevate the consciousness of leaders and organizations to live a more harmonic life building a more coherent world. She is writing a book about bringing coherence in life through living your purpose. She has been a guest speaker in different MBA courses in Switzerland, India, and France and has given speeches to several organizations on the topic of Purposeful transformations and conscious leadership. She has a degree in Business Administration from the Fundacao Getulio Vargas (FGV) University, Sao Paulo, Brazil, and several other courses in leadership, general management, and public policy during her international career. Her dream is to help unleash more coherent leaders who care about this planet and humanity to build a world where her children can have work as part of their lives. A world where they do not have to worry ever about work-life balance because they love and are proud of whatever they are doing. They have life-balance. She is married, has three children, and lives in Orlando, Florida.


TO WATCH THE VIDEO INTERVIEW, CLICK ON THIS MP4 file link