Careers: Interviews
A Chat with Aliya Grig: Innovator; Entrepreneur; Founder, Evolwe AI; Founder, The Cosmos City; Researcher; Mentor; Speaker; Author
This week, Stephen Ibaraki has an exclusive interview with Aliya Grig.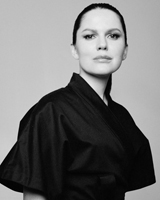 Aliya Grig is the founder of Evolwe AI startup, which focuses on building empathetic AI technology, and The Cosmos City - an innovation hub for space tech startups. Aliya is also a certified specialist in neuroscience, a Karman Space Foundation member, a Battleverse Advisory Board member, and a mentor at a Growth Mentor platform. In 2021 Aliya was listed as one of the Top 100 women entrepreneurs in AI. In 2018 she was shortlisted for the Forbes Europe Young Entrepreneurs.
Evolwe is a technology company that specializes in creating cutting-edge AI using neuromorphic architecture, with a focus on developing empathetic AI for human-like interactions and personalized experiences. To achieve this, Evolwe has combined several advanced technologies, including theory of mind, metacognition, psychometrics, and NLP, to create a state-of-the-art AI architecture. The resulting AI is designed to provide empathy, reasoning, and cognitive skills that are similar to those of a human, making it one of the most advanced AI systems currently available. Evolwe offers three core products to businesses and end-users. These products include generative agents for business, AI tools for complex problem-solving in healthcare and climate change, and SensEI, a new generation of AI assistant for end-users. Evolwe's platform incorporates cutting-edge AGI architecture that integrates principles from consciousness studies, neuroscience, and cognitive science to create a more advanced and adaptable system. This platform has the potential to revolutionize the field of AI and provide even more advanced solutions for businesses and end-users. Evolwe was launched in December 2022, featuring an intelligent, empathic AI that engages like a human based on neurophysiology, thought analysis, emotional intelligence, and their own neural network that generates emotionally sensitive responses and has a 'personality'.
The Cosmos City is a 30+ hectare complex located in Los Angeles, California, that takes its name from the Ancient Greek word for "order" and "beauty." The vision is to create a new city that serves as a global standard for living and working, unlocks human potential, and becomes a blueprint for future generations. It will include an educational center, an innovation hub for science and space tech startups, and a hotel and residences dedicated to space and the future, designed by New York architects Hani Rashid and Lise Anne Couture (Asymptote) to be completed in 2026.
Aliya has 15 years of background launching tech startups at a global scale, a successful exit from a space tech startup, and collaborations with Boeing, NASA, and Lexus. Her work experience includes companies from the Fortune 500 list, such as L'Oreal, Mitsubishi, and Airbus. Aliya Grig has been conducting research on human consciousness, meditation, neuro interfaces, and AGI. In 2010, she began a research project on understanding the principles of human consciousness and approaches to it in Buddhism, Shaivism, Daoism, and world literature. In 2015, she conducted research with practical experiments on meditations and estimating the level of human consciousness during the meditation process. In 2016, she conducted research on neuro interfaces and specifically the possibilities of the interaction with neuro interfaces to analyze signals of the brain that can be understood as consciousness. Currently, she is conducting research on AGI and creating architectural models for AGI based on the studies of human consciousness. She is working in the AI domain with the purpose of building an AGI and creating a new type of architecture based on brain models and training them through the same learning process as the human brain uses.
Aliya Grig has had a dynamic and diverse professional career spanning multiple industries. In 2006, she worked in the MT Service telecommunication company as Head of business development while also developing her own consulting projects in the field of strategic management and crisis management for international companies. In 2011, Aliya launched TOTE, a startup that developed fuel cell technology for sustainable energy production, raising over $7 million in investment before exiting the company in 2013. Currently, the technology is used at the ISS. In 2012, she founded Element, which developed AlSc alloy for the aerospace industry aimed at significantly reducing the weight of aircraft and launch vehicles, with Boeing as one of its clients. She raised an investment of $5 million before exiting the company in 2015. Aliya also founded the RED Foundation in 2013, which initiated a range of art and urban development projects, including the complete renovation and urban planning for a small town in Western Europe, the planning and development of a 80-hectare Industrial park, and the international competition for renovation and redesign of the Moscow River embankment areas. In 2016, she founded the Galaktika company, which created various activities in the field of space education for kids and teenagers and supported art projects dedicated to space exploration. She also joined as a co-founder of two space startups for rocket engineering and 3D-printing for space, Anisoprint and Lin Industrial, which she exited in 2018. In 2017, Aliya participated as an expert at NASA's competition for creating the first Mars city. In 2020, she released her science-fiction book "Cosmos: Yours & Mine" and a children's educational book about space as an author. Aliya's professional activities demonstrate her versatility, entrepreneurship, and creativity in different fields, from telecommunications and aerospace to art and urban development.
Aliya Grig has also been actively involved in public and social activities throughout her career. She served on the board of trustees of the Children B.E.L.A. charity fund, demonstrating her commitment to helping disadvantaged children. Aliya has also been a mentor at the Higher School of Management and participates in charity projects, such as Meet for Charity. As a contributor to Forbes magazine, Aliya writes a space tech column, sharing her knowledge and insights with a wide audience.
Aliya Grig is also involved in art and educational projects, such as supporting a book about Cosmism and creating an educational program for kids about space. Aliya is a sought-after speaker and regularly presents at top tech and business conferences such as Seedstars Summit, Web Summit, and Collision Conference. As an author, she has published several scientific works about management and neuroscience approaches for well-being, highlighting her commitment to understanding and promoting human well-being in the workplace and beyond. Aliya's public and social activities demonstrate her passion for art, education, and innovation, as well as her dedication to sharing her knowledge and expertise with others.
Aliya Grig has given public talks on a range of topics, showcasing her expertise in AI, space exploration, efficient teamwork, and psychotyping. She spoke on the "Future of AI technologies" at WebSummit in Lisbon, Portugal in 2021 and discussed "The first city in space" at Future Forum by BMW in Munich, Germany in the same year. In 2022, she shared her insights on "How to organize efficient and proactive teamwork during the growth stage" at the Hey Growth Summit in Berlin, Germany. She is scheduled to speak at the WAICF: World AI Cannes Festival in 2023, where she will address "AI Today & Tomorrow." Aliya is also set to speak on the "Future of AI Technologies" at the Risk Management Show in 2023 and on "Determining the psychotype of a person during a conversation with a chatbot" at the AINL: Artificial Intelligence and Natural Language Conference in Yerevan, Armenia in the same year. These public talks demonstrate Aliya's knowledge and thought leadership in emerging technologies, as well as her ability to communicate complex ideas to diverse audiences.
Interviews:

Interview for Authority Magazine
Interview for The Blog of Nishant Garg
Interview for L'Officiel
Interview for YFS Magazine
Interview for Forbes
Interview for Vogue
Aliya's projects websites:

https://evolwe.world
https://senseiw.com
https://evolwe.ai
https://cosmoscity.net
Personal links:

Instagram: @Aliyagrig
LinkedIn: @AliyaGrig
Twitter: @aliyagrig
Medium: https://aliyagrig.medium.com/
Official website: https://aliya.space


TO WATCH THE VIDEO INTERVIEW, CLICK ON THIS MP4 file link