Careers: Interviews
A Chat with Tan Moorthy: advisory board member and strategy consultant in the areas of workforce transformation and sustainable development; past Executive Vice-President, Infosys
This week, Stephen Ibaraki has an exclusive interview with Tan Moorthy.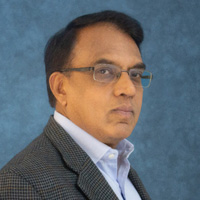 Srikantan Moorthy, known as Tan to friends and colleagues, has over three decades of global experience in the IT professional services industry. He is currently an advisory board member and a strategy consultant in the areas of workforce transformation and sustainable development. He recently retired from Infosys as an Executive Vice President where over a 23-year period played several roles including being the Head of Delivery Operations for US, Canada & LATAM, Group Head of HR, Global Head of Education, Chairman of the Board for Infosys Public Services and Trustee on the Board of Infosys Foundation USA. At Infosys, as part of the leadership team, Tan got a ringside view of how the company grew from 7,000 employees when he joined, to more than 340,000 professionals with global operations across more than 54 countries with significant presence in India, North America and Europe and annual revenues of $18B.
In his most recent role at Infosys, Tan was responsible for the successful execution of the localization strategy that became a key differentiator for Infosys resulting in winning new deals valued over a billion dollars and a significant growth for the company. He built a diverse team, and enabled the transition from hiring for degrees to hiring for skills while implementing a tech apprenticeship program at scale.
Tan led cross-functional teams, like the councils for skill development, compliance, DEI (Diversity, Equity & Inclusion) and was also a member of the Grievance Redressal Board set up to address issues related to sexual harassment at the workplace.
Tan has also been the Group Head of HR at Infosys, during which time he had significant interactions with the Board on all people matters including executive compensation, succession planning, and risk mitigation. As Global Head of Education at Infosys, Tan led entry-level talent development training of over 15,000 people annually and reskilling of over 200,000 employees to meet the competency needs of the organization.
Tan has been an active representative of Infosys in several professional bodies including NASSCOM (National Association of Software and Services in India) Education Council and IFEES (International Federation of Engineering Education Societies). As a member of the NASSCOM Education Council, Tan led a workgroup for defining the competencies required for an IT Professional.
As a trustee on the board of Infosys Foundation USA, Tan championed the cause of building digital skills for all. Tan has been a champion of sustainable development and has led a UN workgroup for defining industry-specific metrics for corporates to impact the Sustainable Development Goals (SDGs).
Tan is an advisory board member for RS Metrics, a company that provides geospatial-based asset-level data for enterprises to measure physical, climate, and environmental risks.
Tan is also part of the Advisory Board at University of Texas Dallas Jindal School of Management Center for Global Business and Member of the ACM Board Professional Development Committee (Association for Computing Machinery – founded in 1947 is the largest and oldest educational and scientific computing society known for their AM Turing Award, Nobel of computer science).
In July 2010, Tan was inducted as a founding director of the International Professional Practice Partnership (IP3) Global Industry Council (IP3-GIC set up under the auspices of a UNESCO-sanctioned body). Tan has been a panelist in several talent transformation and sustainable development related forums.
In 2012, Coventry University UK conferred Tan the Degree of Doctor of Technology in recognition of his work to develop the global skills of IT and engineering professionals through competency building.


TO WATCH THE VIDEO INTERVIEW, CLICK ON THIS MP4 file link