Careers: Interviews
A Chat with Eveline Bussemaker: International Student; Summa Cum Laude with Honors graduate, Pace University, New York; past internships at Rockfleet Financial Services and Dell Technologies
This week, Stephen Ibaraki has an exclusive interview with Eveline Bussemaker.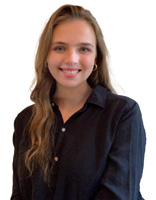 Eveline Bussemaker is a student at Pace University in New York, getting her masters in Strategy and International Business. In May 2023, she graduated Summa Cum Laude with Honors at Pace University with a bachelor in Finance with a concentration in Economics. Eveline is also a captain of the university's field hockey team.
She is an international student from the Netherlands. She decided to go to a university in the United States to gain international experience and to be a student-athlete.
Eveline has done internships at Rockfleet Financial Services (wealth management) and at Dell Technologies in Washington D.C. (government affairs). Since 2022 she has been a volunteer at GMHC where she provides free legal services to clients with immigration matters. Eveline also volunteered at the summit for accountability in the digital age in the Peace Palace in The Hague.


TO WATCH THE VIDEO INTERVIEW, CLICK ON THIS MP4 file link