Careers: Interviews
A Chat with Alodeep Sanyal: Semiconductor industry veteran; Thought leader in the domain of deep-health wearables; Co-founder and CEO of LifePlus, Inc.
This week, Stephen Ibaraki has an exclusive interview with Alodeep Sanyal.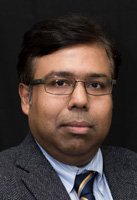 Alodeep Sanyal is an Indian American computer scientist and is the co-founder and CEO of LifePlus, Inc., a company leading the path to the world's first ever non-invasive continuous glucose monitoring wearable solution.
Alodeep is a semiconductor industry veteran and played leading roles in developing next generation server products for Intel Corporation before switching to his current role at LifePlus. He is considered a thought leader in the domain of deep-health wearable products and speaks extensively at the leading conferences and meetings in the broad domain of wearable technologies, telehealth and AI.
Alodeep is a senior member of IEEE and received a master of science in computer science from Colorado State University, Fort Collins and doctor of philosophy in computer engineering from University of Massachusetts, Amherst.


TO WATCH THE VIDEO INTERVIEW, CLICK ON THIS MP4 file link