Careers: Interviews
A Chat in 2023 with Carol S. Hansen: Founder and Chief Executive Officer, Tatonka Capital Corporation; established Tatonka Education Services (TES) - a Public Benefit Corporation; current Chair of the YPO Sustainable Business Network
This week, Stephen Ibaraki has an exclusive interview with Carol S. Hansen.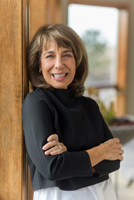 Carol Hansen is a Founder and the Chief Executive Officer of Tatonka Capital Corporation. Tatonka Capital, now celebrating its 30th year, began as a very small company focused on the unique niche of high-value-added government financing. Tatonka Capital's expertise is nimbly finding the best overall solution for its customers using a win-win approach. Carol assembled a team of highly talented financiers who successfully navigate complicated government policies and procedures. Tatonka Capital grew to generate $100M in earning assets annually.
Carol's team consists of very resilient people that have been able to find underserved niches in government markets where there are material inefficiencies. Often these niches are overlooked by the banking industry. At its peak Tatonka Capital managed its own lines of $100M underwritten by banks and hedge funds. Tatonka Capital also sourced earning assets under its own name to most national banks, several insurance companies, and many private institutions. These sources were rewarded with high quality, high yielding loans and leases in excess of $1.5 billion. Today this market has been commoditized by national banks and produces more than $5 trillion annually.
As Tatonka Capital moved from one inefficient niche to the next, an emphasis grew focusing on charter school facilities financing. In 1997 Tatonka Capital pioneered bridge financing to the first issuer of a rated tax-exempt municipal bond for a charter school in the country. Following Tatonka's lead this market has also been commoditized. $5 billion in tax-exempt charter school facility bonds were issued in 2021.
Carol established Tatonka Education Services (TES) - a Public Benefit Corporation - in 2015 with a mission to disrupt charter school management. Charter schools served 3.4 million students in the FY21 school year. Unfortunately, established business models encourage management companies to be at odds with the true needs of students. Following her core beliefs, TES established programs and systems that generate win-win scenarios. TES succeeds only when its schools (customers) succeed. TES approached this niche in an effort to bring down cost, maximize efficiencies and put more money to use at the school sites, while still maintaining a triple bottom line. As a parent of three highly successful grown charter school kids, Carol knows firsthand how good management impacts kids' lives.
Carol has been a 20+ member of YPO, Inc. Her business is focused on the United States, but her YPO participation has taken her across the globe as a seasoned leader of numerous YPO projects, committees, networks, and initiatives. For example, Carol currently serves as the Chair of the YPO Sustainable Business Network. In this role she is serving as the Co-Chair of the YPO Global Impact Summit – 2023. She leads an executive committee made up of CEOs from Canada, the U.S., Uganda, and Italy. This committee drives the YPO Business as a Force for Good mission, helping our member companies identify and accelerate their focus on their own triple bottom line. Carol also leads strategic alliances with BLab, the Global Impact Leaders Initiative, and other partners of YPO/SBN.
Volunteer
Carol is a long-time volunteer for YPO and has been recognized with a number of YPO awards and leadership positions, including:
Member, YPO International Learning Committee 2009-2012
Recipient YPO Best of the Best Chapter
Worldwide 2009 (YPO Rocky Mountain Chapter Chair)
Host Chair, YPO Global Leadership Conference, Denver, CO 2011
Recipient, YPO Best of the Best Network - Worldwide 2012 (Women's Business Network Chair)
Member, YPO Events Committee 2019-22
Chair, Sustainable Business Network 2022-2024
Vice Chair, Impact Networks Council 2023-2024
Member, University of Colorado, Leeds School of Business, YPO Cabinet 2023 - 2024
Carol volunteers and participates in a wide variety of charities and philanthropies. She has three adult children, two granddaughters and has been married for 39 years. Carol attended the University of Colorado, Boulder but chose to enter the workforce before receiving her undergraduate degree. This choice - and it was a choice - has both propelled her forward and held her back over the years. Not being a college graduate is an interesting twist in a journey that looks well organized and yet could not have been mapped out in advance!


See: 2022 Interview with Carol Hansen


TO WATCH THE VIDEO INTERVIEW, CLICK ON THIS MP4 file link