Careers: Interviews
A Chat with Anthony Stephan: chair Cornerstone Development, top award winning chief executive, investor, innovator—about his ongoing incredible success history; work in pioneering sustainable cities and real estate developments; investments and leading with globally top companies and programs leveraging sustainable green energy, metaverse, mobile, education, inclusion for 2 billion with limited access; lessons with top leadership organizations; inspiring stories of people transforming the world
This week, Stephen Ibaraki has an exclusive interview with Anthony Stephan.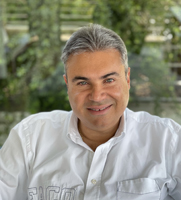 Anthony Stephan is the chairperson of Cornerstone Development, ranked by Forbes as one of the top real estate companies in the Middle East. Anthony has led several real estate development projects including the multiple award winning District//S, a pioneering sustainable microcosm city in the Middle East. His vision is that of achieving a sustainable future in all business fields and he continuously contributes to it by investing and supporting companies such as BBOXX, Minexx, Proof of Impact, Goodwall, Changelabs and ACDME. Additionally, he has conceptualized and launched the "1 Tree per Square meter" initiative in all his real estate projects, contributing to greening the planet.
He is a member of the Lebanese Franchise Association (LFA) and has also invested in introducing Häagen-Dazs to Lebanon, which earned him the 2016 Star of Häagen-Dazs award. In the same year he was awarded the Social Economic Award as a recognition to his professionalism and innovation.
Anthony's passion for community building is reflected in his engagement as a board member in visionary organizations such as the International Chamber of Commerce (ICC), Lebanese American Chamber of Commerce, the United Nations Global Compact (UNGC), the Lebanese SDG Council, the Order of Engineers and Architects of Lebanon and he is the Chapter Chair for Lebanon of the Young Presidents Organization (YPO). He is an avid supporter of youth and gender empowerment and has sponsored many local and international initiatives related to education and technology.
Anthony holds a master's degree in civil engineering from ESIB Beirut and has completed the Singularity University executive program, as well as the Stanford Graduate School of Business executive program.
TO WATCH THE VIDEO INTERVIEW, CLICK ON THIS MP4 file link