Careers: Interviews
A Chat with Netanel Eliav: Innovator; Top AI and Data Leader; Entrepreneur; Founder of SightBit
This week, Stephen Ibaraki has an exclusive interview with Netanel Eliav.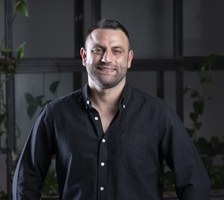 Netanel Eliav grew up with a computer in his hand, and by the age of 12, he already knew how to hack servers at some of the top American universities. By age 14, his first major product was a fork of the Sub-Seven, which acted as remote control software, which he built to research the ability to breach the defenses of giants like Microsoft and Symantec. By the time he was 18, he had strong Software Development and IT skills, including Python, C, Assembler, and Advance Communication.
In 2005, Netanel served in the Israeli Intelligence Corps in some of the legendary units we all know. There he had his first glimpse into how data runs the modern world. There he found a talent for quickly absorbing new information, managing data and utilizing advanced computer vision technologies.
In 2008, at age 22, Netanel established his first business, a company in the US. Following on the heels of his early business success, in 2 years, he opened an engineering project management company in Israel.
Netanel went on to earn a B.A. in Economics, an MBA in Strategy, and a MSc in Computer Science. He is also a member of The Israel Information Technology (IT) Association.
With his experience in business and management, and his skills in Computer Science, he worked at major organizations like Strauss, Intel, and the Israeli Prime Minister Office, where he gained skills in Deep Learning, Computer Vision, Cyber Security, Product design, and even Arabic as his 3rd language.
From 2019 to 2022, Netanel founded SightBit, which develops Artificial Intelligence Systems for Smart Detection of Adverse Situations in Water to Prevent Escalation. The system harnesses SOTA Deep Learning Algorithms, Computer Vision, and Advanced Statistics. In 2022, SightBit was listed as one of the world's top 5 Drowning Prevention Technologies. Netanel acts as CTO & CEO of SightBit and is slated to join the company's board of directors. Netanel continues to join world-leading companies as a technology development leader and as a director to develop the next big thing.
In 2021, Netanel was chosen as one of the World's Leading AI Innovators by NVIDIA, and in 2022 he was listed among the world's top 60 AI and Data leaders. Some of Netanel's known projects are: Cylon 0.1, VizNet, etc
Netanel top skills are: Inter-Personal Relationships, Team Leadership, Communication, Product & Project Management, IT & Computer Science - AI and Data. His strength comes from his geek technology skills and his business confidence. If you asked him whether he thinks of himself more as a techie with business skills, or a businessman with tech know-how, he couldn't tell you, either.
Netanel always enjoys expanding his network, meeting people face to face, and learning from others. Contact him directly via email, LinkedIn or, just like old days, by phone.
LinkedIn: www.linkedin.com/in/inetanel
Email: inetanel@me.com
Personal website: https://www.inetanel.com


TO WATCH THE VIDEO INTERVIEW, CLICK ON THIS MP4 file link