Careers: Interviews
A Chat with Professor Ramanujam: Innovator, Researcher; Entrepreneur; Robert W. Carr Professor of Engineering; Professor of Cancer Pharmacology and Global Health at Duke University; co-program leader of the Radiation Oncology and Imaging Program (ROIP) at the Duke Cancer Institute; Founder, Center for Global Women's Health Technologies (GWHT); about empowering a new generation of problem solvers by fostering collaborations to harmonize expertise to tackle complex global challenges
This week, Stephen Ibaraki has an exclusive interview with Professor Ramanujam.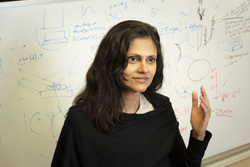 Professor Ramanujam is the Robert W. Carr Professor of Engineering and Professor of Cancer Pharmacology and Global Health at Duke University and co-program leader of the Radiation Oncology and Imaging Program (ROIP) at the Duke Cancer Institute. She founded the Center for Global Women�s Health Technologies (GWHT) in 2013 where she leads the creation of impactful solutions to improve the lives of women and girls globally. Since its inception, the center has catalyzed new research, educational and community activities, globally. Integral to her work is the training and empowerment of a new generation of problem solvers who are able to work across multiple disciplines, cultures and countries. She also fosters collaborations between engineers and non-engineers to harmonize their expertise to tackle complex global challenges.
Professor Ramanujam has established ventures and partnerships to achieve far reaching impact. The pipeline of technologies developed in her lab and center are commercialized by a company she co-founded called Calla Health foundation. Calla Health has commercialized several products, which are being deployed in multiple countries including Serbia, Peru, Brazil, Kenya and Mozambique. Further, she has developed a network of 50+ partners including local and international academic institutions, hospitals, non-governmental organizations, and ministries of health who all work together to accelerate the impact of the solutions her team has developed. Professor Ramanujam has more than 20 patents and 150 publications and has raised over $40M for her center initiatives.
Professor Ramanujam's lab has dedicated its research efforts to improving the prevention and treatment of cancer, with an emphasis on women's cancers, which is disproportionately prevalent in low- and middle-income countries. Her global initiative in technology and innovation for cervical cancer prevention is as an exemplar. For example, she has created an imaging device called the Pocket colposcope, which transforms the complex, costly, and cumbersome clinical colposcope (for cervical cancer diagnosis) used in specialized settings to a simple, inexpensive, and hand-held device, which can be deployed in a local clinic. A companion deep learning algorithm that her team has developed has the capacity to assist primary care providers, particularly, midwives and nurses, when there is limited access to specialists. Professor Ramanujam is working with her partners in Peru to integrate her technology into community-based models of care delivery and have been able to provide cervical cancer screening to over 500 patients to date. They are currently working with the ministries of health to scale this model to other regions within the country.
A diagnosis without an effective treatment is not going to save lives. In low-income countries in particular, access to surgery or radiation for cancers is few and far between. This necessitates continued innovation and has inspired Professor Ramanujam�s team to create a liquid-based ablation therapy for solid tumors. Tri-solve is unique in that it uses an ethanol injection to injure the tissue, local chemotherapy to poison the cells (which minimizes systemic effects), both of which are mixed in a solution with a cellulose polymer that gels upon contact with tissue confining treatment and preventing off-target effects. Translation to in-human trials is underway.
Cervical cancer and reproductive health are inextricably linked; without a basic understanding of one's own anatomy it is hard to advocate for it. Professor Ramanujam and her team have created a device called the Callascope that utilizes the concept self-examination as a learner-centered methodology for health promotion. In the hands of women, the Callascope can be used to privately explore the inner reproductive anatomy and facilitate self-awareness and a deeper understanding of the cervix and cervical cancer. In the context of health care, this technology could be used to at home testing for cervical cancer, signs of labor, premature ripening of the cervix, to name a few examples. This technology has been proven to be empowering in the hands of women in different cultural and geographical environments in Africa, Latin America and the U.S. This one of a kind technology has received a number of recognitions and awards from the MIT-Lemelson foundation, Cisco, and the McGovern foundation and has been featured in TEDMED, NPR, Wired magazine and a variety of podcasts.
Professor Ramanujam has used her passion for innovation, the arts and storytelling to create the (In)visible Organ, a platform to share and archive stories of growth, pain, resilience and beauty surrounding the inner reproductive anatomy through the voices of women, nonbinary and transgender people. Inspired by the Callascope, she worked with collaborators with expertise in film making, on a documentary called the (In)visible Organ featuring personal stories related to cervical cancer and health inequities. This documentary was featured at the largest cervical cancer conference, IPVS in 2020 and has been screened by multiple artists and students across the U.S. She also led the curation of an art exhibit of the same name to bring together a collection of visual arts, medical photography, sculptures and installations, which was showcased as both a physical exhibit and a digital moving gallery.
What led to the successful implementation of these programs is the creative talents of engineering and non-engineering students. Professor Ramanujam has established a train-the trainer-model called Ignite, where Duke students work alongside learners (typically high school students) to solve local challenges within their communities. For example, students living around the contaminated lake Atitlan, in Guatemala learned how to design engineering solutions for clean water, while those in a secondary school in Muhuru Bay, Kenya were able to design renewable energy flashlights for personal use during the frequent power outages they experienced. The participatory learning curricula has implemented in more than four countries and has been scaled to over 500 schools in Guatemala.
Professor Ramanujam is internationally recognized for her contributions in innovation, education and entrepreneurship. She is a Fulbright scholar, a member of the National Academy of Inventors, and a fellow of international professional societies in her field. She has also been invited for speaking engagements at the United Nations, as a TEDx speaker, and been invited to give plenary talks on her work all over the world. Professor Ramanujam has received a number of awards for her outstanding contributions in the field of biomedical engineering, including the MIT TR100 Young Innovator award, the MIT Global Indus Technovator award, the Duke Stansell Family award, the Department of Defense Era of Hope Scholar award. Awards from her professional societies include the Women in Molecular Imaging Leadership Award, the Biophotonics Technology Innovator Award, the Michael S. Feld Biophotonics Award, the IEEE Biomedical Engineering award, and the IEEE Distinguished Lectureship. The impact of her social innovations has been recognized through the Consortium of Universities in Global Health Emerging Leader in Global Health Award, the Social Impact Abie Award from Grace Hopper Foundation, and Duke Wom C Global Impact Award.. Her MacArthur Foundation 100&Change proposal, Women-Inspired Strategies for Health: A Revolution against Cervical Cancer (WISH) was recognized as one of the Top 100 proposals submitted to this $100M grant competition (Macarthur 100&Change). The WISH Revolution is an innovative implementation initiative created for the purpose of addressing cervical cancer worldwide.
TO WATCH THE VIDEO INTERVIEW, CLICK ON THIS MP4 file link