Careers: Interviews
Dr Chaesub Lee, 2014-2022 Director, Telecommunication Standardization Bureau, ITU, candidate Deputy Secretary-General ITU; Scientist and global ICT authority; leader behind AIforGood, Financial Inclusion Global Initiative (FIGI), the Road Safety initiative, Bridging Standardization Gap, Regional Group, board accessibility, and much more ...
This week, Stephen Ibaraki has an exclusive interview with Dr Chaesub Lee.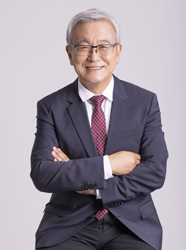 Dr Chaesub Lee has been involved in the fields of telecommunication and ICT for 35 years: as a technical expert for 27 of those years, and as an Elected Official of the International Telecommunication Union (ITU) for the past 8 years.
Dr Lee has contributed to the development of Telecom/ICT technology and services in areas as diverse as, Next-Generation Networks (NGN), IPTV, cloud computing, Fixed networks/Machine Learning (ML) for 5G, application of emerging technology (Quantum, Blockchain, AI and ML) into Telecoms/ICTs.
He launched initiatives for inclusion such as AI4Good, the Financial Inclusion Global Initiative (FIGI), and the Road Safety initiative.
He initiated several programmes and executed them for enhanced collaboration and coordination through practical implementation, for example:


the hands-on training programme for the Bridging Standardization Gap (BSG);
"Regional Groups" of Study Groups for addressing region-specific requirements (especially in developing regions);
Supported "Accessibility" addressing specific assistance needed for wider and better participation of experts in ITU-T activities.
He claimed "Gaps" exist everywhere, and for everyone. It goes beyond the issues between developed and developing countries and includes gender gaps and age gaps.
He started his professional life in 1986 as a researcher at Korea Telecom. After 17 years he took up a role at his country's Electronic and Telecommunications Research Institute (ETRI), where he stayed for the next eight years. Subsequently, he worked at the Korea Advanced Institute of Science and Technology (KAIST), and then as a senior advisor to the ICT and Future Planning at the Korean Ministry, (MSIP).
Dr Chaesub Lee was elected as Director of the ITU Telecommunication Standardization Bureau at the ITU Plenipotentiary Conference 2014 (PP-14). The PP is the supreme organ of ITU. He was re elected to this post for a second four-year term at the ITU Plenipotentiary Conference 2018 (PP-18). During his mandates as Director of TSB, he revived ITU-T as a valuable international technical standards platform, which during that time welcomed more than two hundred new industry members. The new members range from advanced users and developers in ICTs, to those who need to use ICTs, such as Quantum, e-sports, Digital Fintech, Blockchain, vehicle industry, medical communities, and he collaborated with city communities to develop smart and sustainable cities.
Dr Chaesub Lee is presenting his candidacy for the position of Deputy Secretary-General of ITU, the elections for which will take place at the upcoming Plenipotentiary Conference 2022 (PP-22), being held in Bucharest, Romania, 26 September to 14 October 2022. His vision as a candidate is �Building a Trusted ICT Platform� with three pillars: building a resilient global ICT eco-system; upgrading core competencies of ITU; and strengthening OneITU. The PP-22 website of ITU provides a brochure (https://pp22.itu.int/wp-content/uploads/2022/05/rep.of-korea-dsg-e-a-c-f-s-r.pdf) and videos (https://pp22.itu.int/wp-content/uploads/2021/12/rep.of-korea-dsg-video-brochure.pdf) of his vision, in the six official languages of the ITU.
Dr Lee holds a Master in Pattern Recognition and Robotics, and a PhD in Multimedia Engineering.


TO WATCH THE VIDEO INTERVIEW, CLICK ON THIS MP4 file link