Careers: Interviews
A Chat with K. R. Prabha (Prabha): Top International Executive and Consultant in the healthcare ecosystem; Vice President, Strategy, Growth & Innovation, Optum; Board Chair, Washington Global Health Alliance
This week, Stephen Ibaraki has an exclusive interview with K. R. Prabha (Prabha).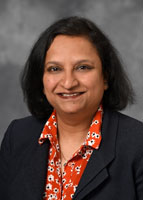 K.R. Prabha (Prabha), Vice President, Strategy, Growth & Innovation, Optum
Board Chair, Washington Global Health Alliance
Personal beliefs: Be Curious, Be Bold.
K. R. Prabha (Prabha) brings nearly 25 years of international executive and consulting experience in the healthcare ecosystem. Prabha brings an international view, engineering mindset, and empathetic design when solving health care challenges having lived and worked in the U.S., Canada, and India. In addition to providing health care expertise, Prabha helps organizations identify best practices to adopt from other industries based on her experiences in technology, strategy, and operations. Prabha is known for building high-performing teams committed to a common vision. She enjoys publishing and speaking on health care challenges and innovative solutions.
At Optum, Prabha spearheads enterprise strategy, consumerism, and digital advisory agendas to formulate analytics-backed market offerings. Previously, Prabha led enterprise transformation at Henry Ford Health System where she served as the Vice President of Transformation and Integration Excellence. Her focus was transforming health care to become more affordable and convenient. Prior to Henry Ford Health, Prabha was a consulting leader with Deloitte, Strategy& PwC, and Huron. She has worked with over twenty U.S. health organizations including integrated care delivery systems, academic medical centers, regional systems and faith-based entities, as well as national and regional health insurers. She collaborated with boards of directors, C-suite executives, and senior management to design and execute transformative strategies. These include developing organic and inorganic growth strategies, formulating digital journeys, redesigning operating models, identifying synergies with mergers and acquisitions, building operational excellence, instituting total cost transformation, and standing up large enterprise programs.
Prabha has traveled extensively in 35+ states in the US and 35+ countries internationally and met people from different cultures and diverse backgrounds and heard their stories over shared meals. Prabha's work in healthcare strategy includes these perspectives of global health inequities in societies and in developing sustainable solutions to reduce fragmentation and friction that improve peoples' lives and health.
Prabha serves as Board Chair of Washington Global Health Alliance in Seattle - a convenor of global health focused organizations and agendas, and as Trustee on the Board of the Seattle Repertory Theatre.
Prabha is a strong DEIJ advocate and vocal collaborator who explicitly makes space for DEIJ discussions to raise awareness and enable change journeys for individuals and communities. At Deloitte, as an early and vocal DEI technology practice leader Prabha launched the "Diversity Wall" that was adopted by 100 offices internationally. DEI is now primary business imperative at Deloitte. At Washington Global Health Alliance, Prabha has actively increased diversity representation on the Board. Prabha serves on UnitedHealth Group's Women Enterprise Leader Advisory Council to inform the company's DEI strategies for 380K employees and provide thought leadership and advice on how to engage, develop, and retain diverse female and women talent.
Prabha completed "Strategy in the Age of Digital Disruption" at INSEAD. Prabha earned a Master of Engineering in Civil (Structural) Engineering from Carleton University, Canada and holds a Bachelor of Engineering in Civil Engineering from the University of Pune, India.


TO WATCH THE VIDEO INTERVIEW, CLICK ON THIS MP4 file link