Careers: Interviews
A Chat with Chintan Oza: Entrepreneur; Outstanding Mentor; Founder, Anantam Ecosystems Private Limited
This week, Stephen Ibaraki has an exclusive interview with Chintan Oza.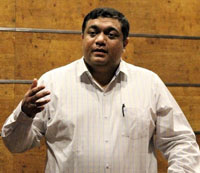 Chintan Oza has 22 years of experience in Telecom & ICT domain.
Chintan is an alumnus of IIT Mumbai, UC Berkeley & Uni of Oxford.
As an intrapreneur, he spent equal part of his career with Reliance & Tata Group in program managing strategic global projects.
At present Chintan is the local leader of Founder Institute in Mumbai; helping FI expand in India. He has extensive experience of working with 57 cohorts in various countries across the globe.
He has been a mentor to various entrepreneurs and accelerators. Been a jury member to various pitch competitions organized by state governments in India.
As founder of Anantam Ecosystems, Chintan works with Entrepreneurs, help them with go to market strategy and scaling up the technology in domestic and international markets.
Chintan is an active volunteer at PMI, IEEE, TEMS, BMA, OneQuantum, Open Tech Foundation & Rotary International.
Chintan is on advisory board / investment committee for multiple venture capital funds, collaborates with angel investors and syndicates.
LinkedIn: https://www.linkedin.com/in/chintanoza


TO WATCH THE VIDEO INTERVIEW, CLICK ON THIS MP4 file link