Careers: Interviews
A Chat with Santiago Rocha: International leader; Global Impact Officer at the global board of YNG (YPO Next Generation); One Young World (OYW) Ambassador; Entrepreneur
This week, Stephen Ibaraki has an exclusive interview with Santiago Rocha.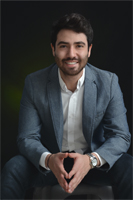 Santiago Rocha is a 20-year-old international leader that generates value for impact leaders throughout global Networks.
Santiago is currently the Global Impact Officer at the global board of YNG (YPO Next Generation), where he oversees the vision statement of the organization: "To develop the next conscious leaders of the future" for the 20,000+ YNG members globally. His goal is to hand YNGers the opportunities and leverage to generate value as they shape, their leadership in an impactful way. This may be through the various International Initiatives, events, programs and Network that YPO/YNG can generate.
As a One Young World (OYW) Ambassador, Santiago has participated 2 times in the OYW Summits, leading the international delegations of YNG to expand the connection range and impact mindset of the YNG organization, as well as participating in this Summits as a member of the Colombian Government and First Lady Delegation of National Colombian Youth talent. Santiago's passion has added value to the next generation's leaders of our planet and as he has been granted the responsibility of concreting the biggest Youth Network Organization's Alliance, from his intersection experience between YNG and OYW, and alliance worth of 36,000 Youth International Leaders from ages 18 - 35 who are or currently impacting or are destined to impact the world. Within organizational marks, Santiago has also directed the Global International Internship Program alongside YPOer and recognized Businesswomen Diana Daniels, where they reached more than 70 internship job opportunities in less than a year for all the countries of Latin America, Spain, and Portugal. At the age of 17, he was named as the youngest member in history of a YPO board Globally, in the YPO Gold Board, also serving at the time as member of the Latin America YNG board.
Santiago has the experience of an Applied bachelor's in sciences of Industrial Engineering from the Andes University in Bogota Colombia and is currently attending the double title of Business and Global and Public Affairs of the IE Business School in Spain. He also attended the YPO teens entrepreneurship Harvard Business School summer class at the age of 15th, where he presented his first social venture company called "Quinoa Milk".


TO WATCH THE VIDEO INTERVIEW, CLICK ON THIS MP4 file link