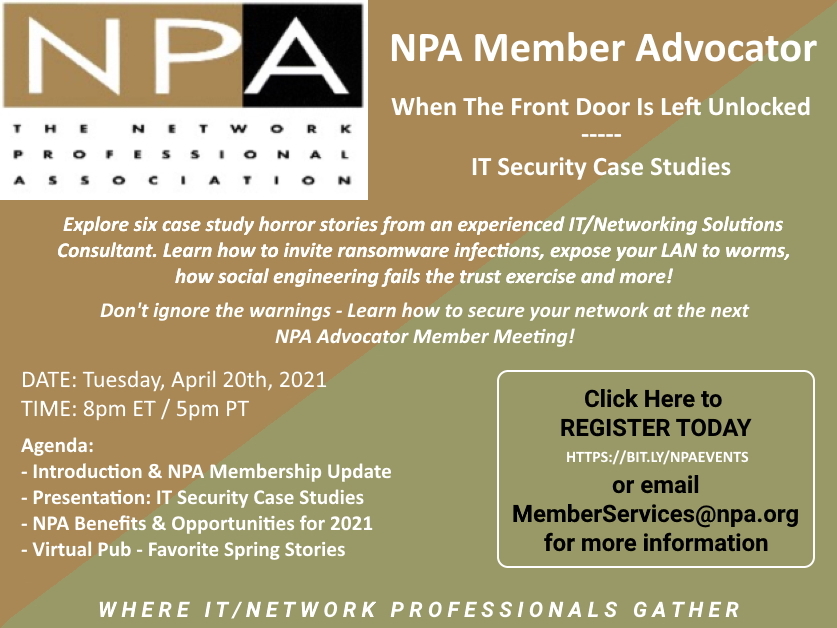 Cyber Security Summit - Denver - Wednesday April 14, 2021

NPA Member Advocator - When the Front Door is left unlocked - Tuesday April 20, 2021

Cybersecurity Risk Management - Thursday April 22, 2021

How to Be a Master Minute Taker - Thursday April 22, 2021

InteropDigital - Cybersecurity's Changing Role in IT - Thursday April 29, 2021

Black Hat Asia - Tuesday May 4 through Friday May 7, 2021

NPA Webinar - - Tuesday May 18, 2021

Cyber Security Summit - Dallas - Sunday June 6, 2021

Cyber Security Summit - Nashville - Sunday June 6, 2021

Cyber Security Summit - Silicon Valley - Wednesday June 9, 2021

More Upcoming Events...


NPA Public Meeting Recording The Race to the Edge — Pushing VPN Security To Its Limits presented by Thomas Sprinkle, Sr. Channel Manager at Fusion Connect
NPA subject presentations now available for your viewing. See under the Publications: Presentations, the topics of interest presented at member meetings
How to Make the Leap from Freelancer to Small Business Owner by Lance Cody-Valdez by Lance Cody-Valdez
Being a Successful IT Professional from Home by Mike Seden - Working from home in a customer support role has taken a little getting used to, and a few adjustments as well.
How the Pandemic Has Forced a New Normal in the Data Center- Provided thorough DataCenter Knowlege - A special report on COVID-19's impact on data center operators, global networks, and enterprise IT. Report produced by Informa Tech's IT media and research brands.
Pandemic to IT: 'Do more with less!' by ZDNet. As demand for new services is rising, budgets are falling. Business pressures of the COVID-19 crisis are falling at the feet of CIOs and IT.
Pandemic IT Innovation: What Is Here To Stay?, Forbes Technology Council
Organizational Management During a Pandemic - State of the Planet, Earth Institue, Columbia University
What is the impact of the pandemic on managed services providers? by Help Net Security. A new SolarWinds study revealed the operational impact of the current pandemic on managed services providers (MSPs) and future growth opportunities in the market.
MSP Innovation Awards Europe 2020 - WINNERS Congratulations to all of the winners at this year's MSP Innovation Awards!
"Online Safety - A Resource Roundup" articles full of information on keeping children safe online.


Join us: NPA On Social Media
Read about the NPA Our People - who and why to be part of the Network Professional Association.
The Governors Council mandate is to manage meetings and activities of our NPA community. We discussed the advantages of NPA, vision, ideas, and next steps to bring new activities to our community. Interested parties should contact Member Services
Certified Network Professional - the professional international network designation for Network Information Technology (IT) professionals in the world. Receive the top designation. Apply to be the best , a Certified Network Professional or CNP. Be recognized as a ethical IT professional!
Awards For Professionalism - Recognition for living the ideals of Professionalism - For more information, visit www.awardsforprofessionalism.org

The Network Professional Association 2021 NPA Board of Directors: Richard Allan Kelley, Stephen Ibaraki, David Deitch and Jim Belasco. Thank you for volunteering.